Artist D. Michael Thomas
"Welcome to the web site of D. Michael Thomas, an award winning sculptor of fine Western Bronzes. His sculptures focus on historical and western life, and range from miniature to life-and-one-half monuments. Select from the links above to find more information about the artist and to view his other works of art."
---
2021 Cheyenne Frontier Days Honoring Chris LeDoux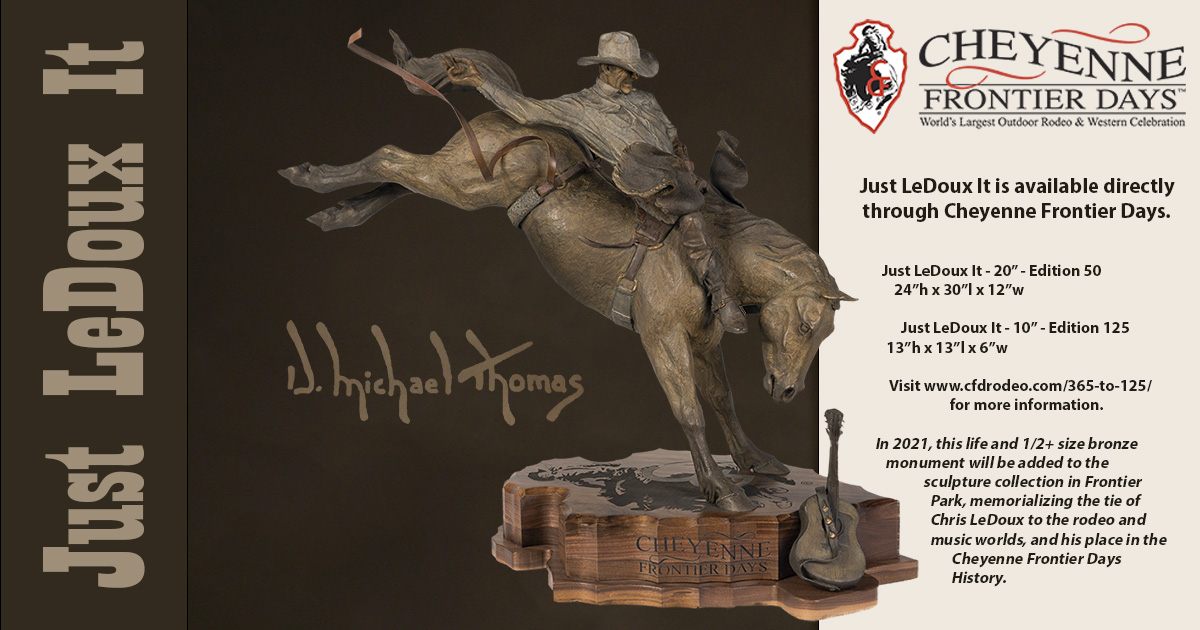 D. Michael Thomas' monument, Just LeDoux It, will be unveiled for the 125th anniversary of Cheyenne Frontier Days in the summer of 2021. The monument will be viewable after August 23rd, and will be visible from both directions on I-25, positioned at the main dropoff point for the new parking lot.
Just LeDoux It - 20" - Edition 50
24"h x 30"l x 12"w
Just LeDoux It - 10" - Edition 125
13"h x 13"l x 6"w
Sculptures available directly through Cheyenne Frontier Days. Own a piece of history here.
In 2021, this life-and-1/2+ bronze monument will be added to the sculpture collection in Frontier Park, memorializing the ties of Chris LeDoux to the rodeo and music worlds, and his place in the Cheyenne Frontier Days history.
Proceeds benefit the 125th Cheyenne Frontier Days celebration through the Cheyenne Frontier Days Foundation; Sculptures are available directly from Cheyenne Frontier Days.
2021 Featured in Cowboys & Indians Magazine - July, 2021
D. Michael Thomas' work, Just LeDoux It is featured in the July, 2021 edition of Cowboys &amp Indians Magazine, available now.